Short Story: MAIN DISH by Titi Oyemade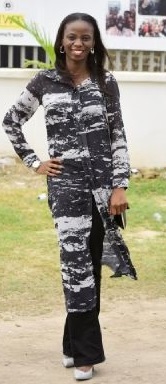 "Lekki Ajah bus, one more yansh…………one more yansh" the conductor screamed. I ran like my life depended on the bus.
I had not seen him in 3 days and 3 days was like eternity. I had missed the love of my life, my earth, my treasure and everything. He was the answer to my prayer and a dream come true. He called me his Main Dish and not the usual baby, honey and the rest of the funny pet names.
I was his Main Dish, the Main Course…do you know what that means?
I had only known Soji for 4 months and it seemed like I had known him for years. He had introduced me to some of his friends and they were already calling me OUR WIFE. Well, except for Tolu who never really liked me from day One. Soji said Tolu might be jealous of our Heaven on Earth relationship.
"Wo le pe lu shange eeeeeeeeeeh" the conductor screamed and he scattered my thoughts.
"I get change oga and stop spitting on me please" I hissed and said angrily.
 I had travelled 3 days before to see my parents in Abeokuta and was meant to spend a week with them but instead I changed my mind and started rushing back to Lagos to spend the rest of the week with my love. I had called Soji in the morning to tell him I was coming but he will not just pick his calls. Anyway, Mohammed his mallam knows me as the main dish so he will give me the key to the main house when I get there.
The bus was so tight and very high that it reminded me of a 3 storey building.
Mukaila, the bus don full? The driver asked the conductor.
"Na one yansh e remain oooh oga mi" the conductor said.
Two minutes later, the bus started moving and we began our journey. I was happy that I was finally going to see the love of my life and then my tummy made a farting noise.
 I decided to buy some things on my way to his place instead of cooking.
"Argungi bus stop wa oooh" I told the conductor. Argungi was not very far from Soji's place. I got down from the bus crossed to the other side and made my way to one of the eateries in the shopping mall. I bought Jolluf Rice, Soji loved Jolluf and a lot of other sweet things.
"Isabella, Isabella" I heard a tiny little voice call me. This must be someone from Secondary School days I thought. That was what I was called at FGGC. And then I turned and saw Bola in a matching outfit with a Tall black handsome man with a 3 months old baby on his hand.
"Isabella, it's been ages" She said.
I screamed Bola from FGGC Onitsha see you shinning.
Yes ooooh, I just got back from America with our baby, meet my hubby Soji" Bola Gidado said.
About Titi Oyemade: Outgoing Introvert| Street Smart not Book Smart | Executor| Passionate| Bookclub Member
Twitter/Instagram: @tiipree