BOOK CLUB MEETING, SATURDAY NOVEMBER 26, 2016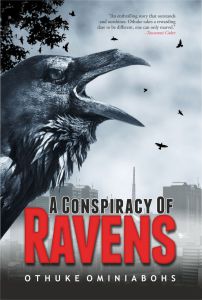 Our November book reading is "A Conspiracy of Ravens" by Othuke Ominiabohs.
A Conspiracy of Ravens is a thriller that digs into the unrest in the Niger Delta and draws a connection between it and the Boko Haram insurgency and the Nigerian Civil War.
We can't wait to discuss this book at the next meeting.
Come and meet some new people and also discuss this book with us at our next meeting and if you can't make it to the next meeting then let's discuss on line.
Date: Saturday, November 26, 2016
Time: 4PM
Send an email to admin@thebookclubng.com for an invite.